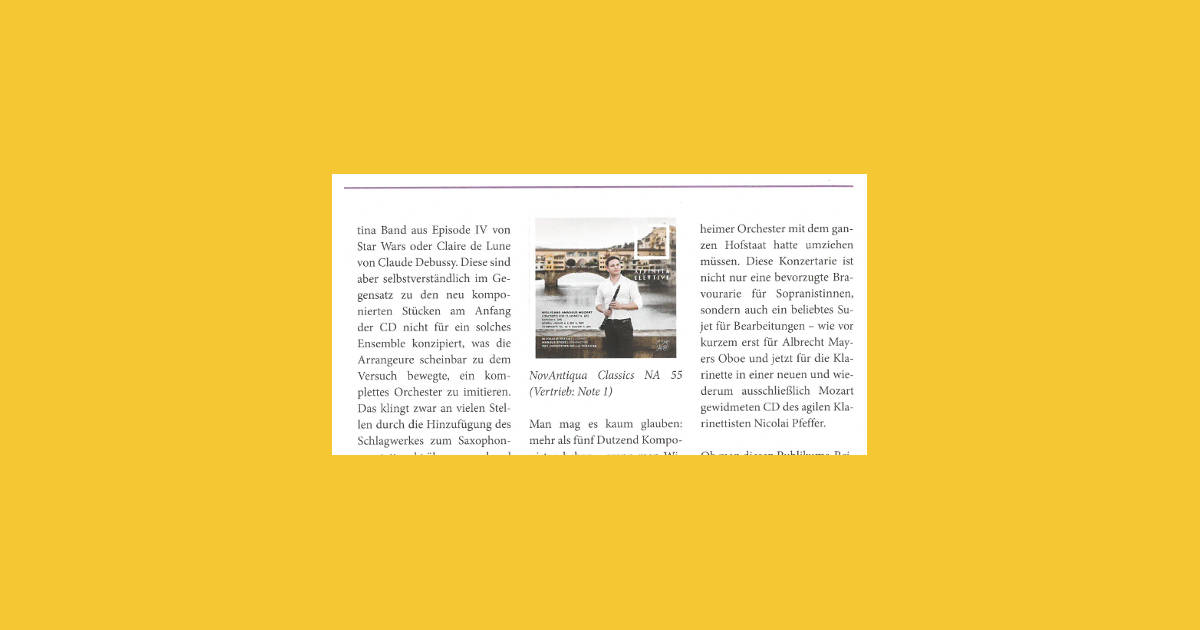 AFFINITÀ ELETTIVE reviewed on Rohrblatt
As a reminder for today's concert in FLORENCE, we are happy to share another very positive review about AFFINITÀ ELETTIVE: our Mozart album by Nicolai Pfeffer and the Orchestra della Toscana led by M° Markus Stenz on ROHRBLATT, by Diether Steppuhn.
"... Not to be missed, of course, is the clarinet masterpiece par excellence, Mozart's K. 299. Here too, Pfeffer's irresistible joy of playing provides imaginative ornaments, from sighs to cries for joy: it is a beautiful youthful freshness ...

The recording was made in Florence, and this production location is lovingly described in the advertisement accompanying the CD: "At the Verdi Theater in Florence, in the midst of the inspiring tension between the Uffizi and the Duomo, Piazza della Signoria and Ponte Vecchio, Markus Stenz conducted the ORCHESTRA DELLA TOSCANA in a Mozart program that was adapted above all to Nicolai Pfeffer's clarinet ... ". The Tuscan musicians respond sensibly to the playing style of the soloist and play with the same youthful freshness and the same soulful verve, as if they and the two protagonists of German origin - conductor and soloist - were bathed in the Tuscan sun, of which we, as Goethe's compatriots, can never get enough! This production full of light, made with palpable enthusiasm, is a delightful gift for any fan of Mozart!"