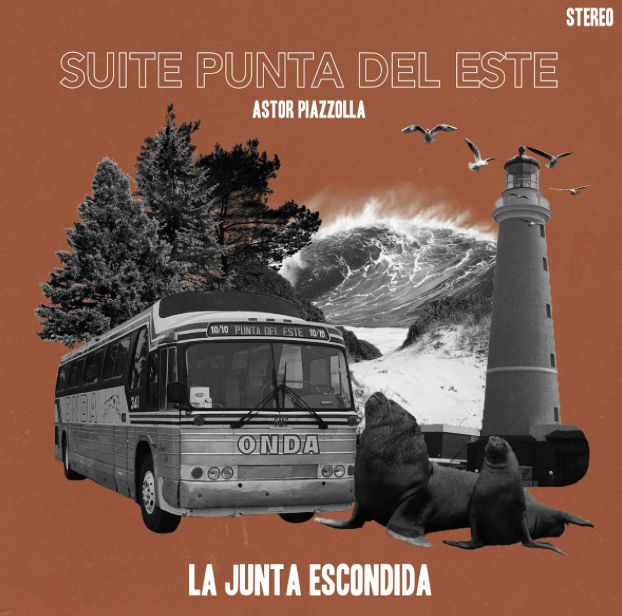 Novantiqua starts a new partnership with PROMU RECORDS with a beautiful Tango Record dedicated to Astor Piazzolla by the Junta Escondida
"Suite Punta Del Este"
by Astor Piazzolla
For the first time arranged for quintet by the Junta Escondida
After the excellent response received for the album "Iracundo", La Junta Escondida is back with a new recording project that celebrates the genius of Astor Piazzolla, the most innovative tango composer of the 1900s.
"Suite Punta Del Este" is a work that Piazzolla wrote during his stay in the 1980s in Punta Del Este, one of the main tourist centers of Uruguay. A place that the artist loved and that he considered an oasis of well-being to disconnect from his routine of endless tours around the world.
Punta Del Este is also the city of the violist of La Junta Escondida - Franco Gonzalez Bertolino - who met Piazzolla in the last years of his life and who as a musician he studied passionately, enriched by the stories of his father and grandmother. Precisely this wealth of memories inspired Franco and his group to engrave this work dedicated to his city and to one of his most important symbols.
"Suite Punta Del Este", famous for being the soundtrack of the film "12 Monkeys", is one of the least performed compositions by Astor Piazzolla, born for bandoneón and chamber orchestra. For the first time, La Junta Escondida created an arrangement of the opera for quintet, which he recorded last April 2021 at the Teatro Dell' Unione in Viterbo, printing a limited edition vinyl.
In the short period from its birth, La Junta Escondida immediately proved to be one of the most important formations of the tango scene. He frequently performs in milongas and for important events, including those organized by the Accademia di S. Cecilia in Rome, the "Tones on The Stones" Festival and at the Salone Margherita in Naples.
Suite Punta Del Este:
1. Introducción
2. Coral
3. Fuga
La Junta Escondida:
Giampaolo Costantini: bandoneón
Leonardo Spinedi: violin
Franco Gonzalez Bertolino: viola
Riccardo Balsamo: piano
Hector Faustini: doublebass
Arrangement:
Giampaolo Costantini
Production:
Promu Label