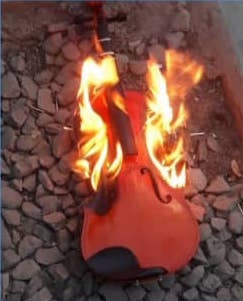 NovAntiqua records helps Afghan music students to come and study in Italy
Do we ask ourselves every day what to do about all the bad things we see in the world?
This violin was the violin of a 17-year-old girl, Asifa, burned by the Taliban a few weeks ago in front of her eyes.
After the Taliban came to power in Afghanistan, the living conditions of the population have degenerated. The Taliban regime has prohibited any form of art, primarily music and dance; it destroyed the ANIM, the conservatory that had been painstakingly built in Kabul; it literally haunts musicians of all genres, both by destroying their instruments and by persecuting them, to the point, in some cases, of killing them. Anyone who wants to study music or is a professional musician or even just plays an instrument for pleasure is now banned from public and social life, forced to hide in the total impossibility of working. The situation is obviously even worse for female musicians.
Through the work of an international network of musicians involving, among others, William Harvey with his association Culture in Harmony and Ulla Benz, we are trying to offer to young people a chance to study, thus avoiding that they enter in the flow of desperate people that every day we see arriving at the borders of Europe. Unfortunately, the official channels of the embassies are inactive and in Afghanistan it is practically impossible to apply for a legal visa for Europe, since the diplomatic representations are closed. The only possibility is to apply for a study visa for students who come to study in Italy. This requires coordinated programs: one of these programs is managed in Emilia Romagna by @ERGO, which offers scholarships to Afghan students enrolled in Italy and now wants to involve some very young music students who will come to study at ISSM Vecchi-Tonelli of Modena and that in Afghanistan have no longer any chance, not only to study but even to have a decent life.
Our label, together with all its musicians, has decided to donate all the profits on the cds sold from our site - starting from today until December 31, 2021 - to contribute covering the expenses that these young Afghan musicians will have in order to apply for a visa and pay for their trip to Italy.
In the next few days we will keep you updated about the situation, but you will not find any pitiful stories or tearjerking and like-catching tales! Your sensitivity will be enough to make you imagine what these people are experiencing ...
From today, therefore, by purchasing music on www.novantiqua.net , you can not only make a Christmas gift to your friends and relatives, sending it directly to their home, but you will give concrete help to some young people in extreme difficulty who want to study music in freedom and live a decent life.
We are convinced that even the little help that each of us can give has great value and importance.

If you want to help us you can buy a cd from our website, or donate:
- by bank transfer to Associazione di Promozione Sociale MAR
Iban: IT52 N076 0103 2000 0007 2013 790
BVIC/SWIFT BPPIITRRXXX, for "Afghanistan project"
- by PayPal to distribuzione@novantiqua.net for "Afghanistan project"