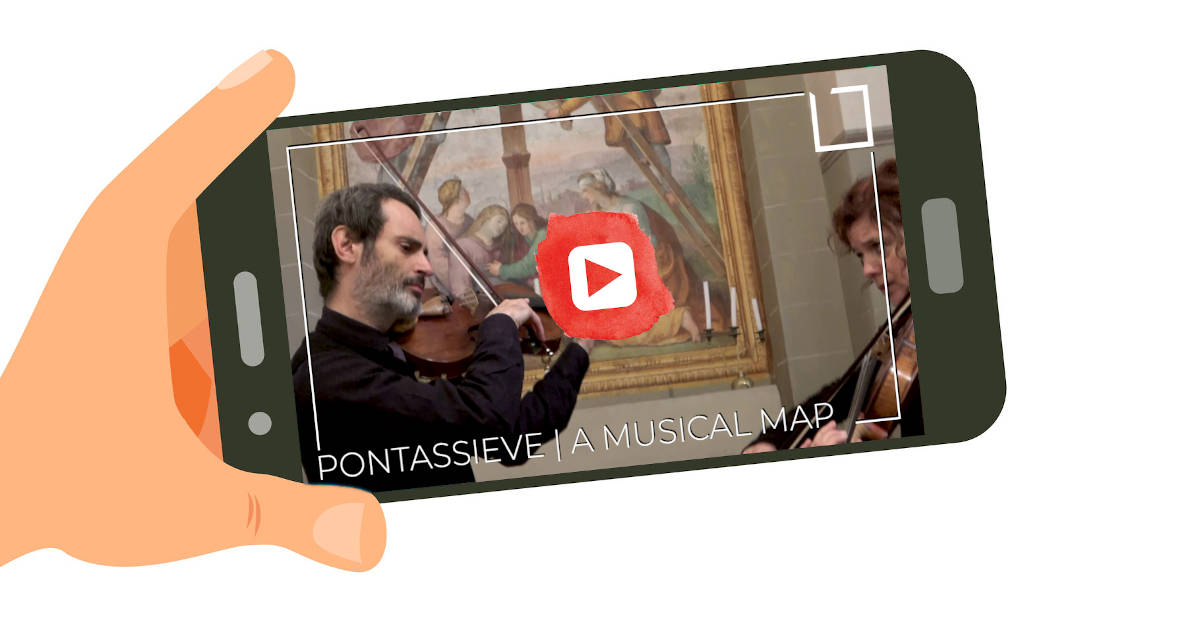 Pontassieve | a Musical Map: Stefano Zanobini & Hildegard Kuen playing Frank Bridge's masterpiece at Montefiesole
In the "a musical map" project the NovAntiqua artists make you discover attractive sites in Pontassieve, a small town located in the countryside near Florence.
FRANK BRIDGE (1879–1941)
Lament for two violas

ENSEMBLE ALRAUNE
Stefano Zanobini, viola
Hildegard Kuen, viola

Recorded at San Lorenzo Church, Montefiesole


---


PIEVE DI SAN LORENZO, MONTEFIESOLE

The Pieve di San Lorenzo is located in Montefiesole, along the "Via dei Setteponti", a path of Etruscan origin that connected Fiesole with Arezzo continuing towards Chiusi, particularly rich in crossing rivers and streams (hence the name of the "seven bridges").
Inside there is a "Deposition of Christ from the Cross" of the sixteenth century, which recalls the famous "Descent from the Cross" by Daniele da Volterra, a pupil of Michelangelo, and the "Madonna del Parto" attributed to Antonio Veneziano (1369-1419 ), disciple of Taddeo Gaddi.
The fresco by Antonio Veneziano is actually a complex iconography that combines the characteristics of the Virgin Annunziata (the Virgin is reading an open book), of the Madonna del Parto (the swollen belly of the Madonna is a detail rarely depicted; famous the version of Piero della Francesca which is located in Monterchi) and of the Madonna dell'Umiltà, a theme that was widely diffused in the second half of the fourteenth century.


---


FRANK BRIDGE

Frank Bridge was brought up in a household where he was enabled to play a lot of music; his father was a violinist, the bandleader of the Brighton Empire Theatre, and he often used to go and play the violin in the theatre band as a boy.

Whilst he was at the Royal College, Bridge showed his great talent as an all-round musician. He was a very good violinist, and he became an excellent viola player: he played the viola in Joseph Joachim's string quartet when they came to London, he gave the UK premiere of Debussy's String Quartet, he played the Introduction et Allegro by Ravel at its UK premiere, in the presence of Ravel, he played Piano Quartets with Gabriel Fauré playing the piano.

Lament for two violas was part of a pair of viola duos, which were debuted on March 18, 1912, with the composer and Lionel Tertis performing. No holograph of the Lament has been found, but sketches exist (upon which this edition is based) in the Parry Room Library at the Royal College of Music in London.


---


STEFANO ZANOBINI AND HILDEGARD KUEN

Stefano Zanobini, principal violist of Orchestra della Toscana, founder of Ensemble Alraune and teacher at Scuola di Musica di Fiesole, is a NovAntiqua artist.

Hildegard Kuen, violist of Quartetto Euphoria and teacher at Scuola di Musica di Fiesole, is a NovAntiqua artist.

Here some recordings by NovAntiqua with Stefano Zanobini and Hildegard Kuen:

NA17 | Tuscania
Cambini | 6 Quatuors Concertant op.21
Boccherini | Duo for viola & cello
On the booklet an article about the rise of humanitarian ideals in Corsicascany during the 18th century.

NA27 | Tuscania 2
Cambini | 6 Duos Concertants
Mozart | Duets from Arias from Zauberflöte (trascr. 1792)
On the booklet an article about the reforms of the treatment of the mental diseases during the 18th century.

NA40 | Colombes & Crocodiles
Cambini | 2éme Livre de Duos
Beethoven | Duet mit 2 obligaten Augengläsern
On the booklet an article about Napoleon, between dictatorship and the search for democratic freedoms.

NA44 | Mozart in Florence
Mozart | Duos for violin & viola
Nardini | Duos for two tenors
On the booklet an article about Mozart's journey in Florence.

NA12 | Musica & Regime 2
Erwin Schulhoff | 5 pieces for string quartet + 3 fragments*
Erwin Schulhoff | Bassnachtigall [version for double bass]
Erwin Schulhoff | Sonata per violino [version for viola]
Erwin Schulhoff | String sextet
Ensemble Alraune

NA29 | Musica & Regime 3
Alexander Zemlinsky | Maiblumen blűen űberall
Marcel Tyberg | String Sextet with Double Bass
Viktor Ullmann | Lieder with String Trio
Federica Carnevale | Mezzosoprano
Ensemble Alraune

Musica & Regime 4 | NA43
Adolf Busch | Günter Raphael | Paul Hindemith
Bela Bartók | Gideon Klein | Sandór Vandór*
works for solo viola
Stefano Zanobini | Viola


---


SPECIAL THANKS

"A Musical Map" is a project by NovAntiqua and Comune di Pontassieve.
Video maker: Giacomo De Bastiani.

Special thanks to Giotto in Musica, MAR Musica Arte Ricerca, Publiacqua and Cittá Metropolitana di Firenze.